e-DocPro® is a 100% cloud software. It has been designed to help you optimise the daily routine of each employee.
You may ask yourself « Which ECM software for my company? », choose the unique software that fits the user !
Class, archive, index, stamp, sign,… your documents, and find them anywhere, anytime, from the UK, US, Down Under, and… anywhere in the world.
From smartphones, tablets, laptops and desktop computers.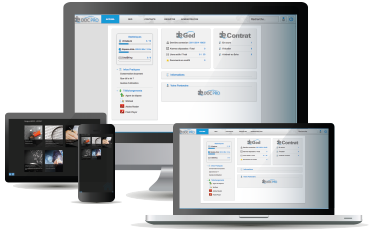 ---
Encrypted connection : The connection is secured by encrypted SSL login and password. Connection via HTTPS port certified by Gandi SAS secure certification Authority
Centralise in the cloud ! Data is available 7 days a week, 24 hours a day, from anywhere in the world!
Software's adaptability : Grâce à une interface simple, intuitive, et épurée ainsi que de puissants outils de travail intégrés, l'application s'adapte entièrement à votre méthode de travail et devient un levier de votre réussite…
Collaborative work and workflow : thanks to an easy & intuitive interface, and strong additional tools such as : electronic signature, stamp, workflow, virtual paper-tray, LDAP, etc… the software perfectly adapts to the company using it!
Sign your documents online! : The SEE® System Protocol comes from the bank authentication system. Sign your documents via the software in just a few clicks. The signature appears just like a real one wherever you want it on the document.
Class, organise, add notes, stamp, create associations between documents etc….
Keep control of your contracts : Automatic renewals, prices, etc : know all about the engagements of your company.
Manage the rights of your collaborators : means of access, schedules, actions allowed on specific documents and files, etc…
NEXW Assign SEE ONLY RIGHTS to certain collaborators, customers, suppliers. .
Agreement for Healthcare : e-DocPro® has got the agreement «HADS» (Host Certified for Health Data).
---
Software plugins:
• Collaborative work
• Workflow
• Digital Signature SEE®,
• Contracts manager,
• Adaptable stamps,
• Dematerialised shipment,
• Heavy file transfers
• Official electronic shipments,
• Automatic indexing
• Rights management,
• Documents shared
• e-mail archiving zone
• XML Companion file
• Timestamp by atomic clock for every upload.
• Widged
---
---
How to use our solution e-DocPro®

---
Many corporations have been studied with the intention to enable our solution to fit perfectly with all companies, from every field of activity.
Each time a document is lost, your profitability and productivity suffer… When you dematerialise documents with e-DocPro® you protect your business, increase your productivity, and boost profitability.
Your collaborators will have more time to accomplish their missions, and not waste time classing documents !
---