BE SAFE and SURE…

The TITAN®, is the first appliance with integrated ECM & Backup, able to conserve the legal value of documents! This mini-datacenter system, made in France, enables you to recover your data after any disaster imaginable (Fire, flooding, explosion, corrosion, magnetism, theft, gas, etc..)
Two of our powerful software solutions, e-kup® & e-DocPro® are integrated in the TITAN®, so it can be used in two ways: private cloud or hybrid cloud.
Highly secure container : Indestructible box certified E.T.U. and UL standards. The container, Survivacast® US-Patent 6-269-966 , enables you to conserve your documents in extreme conditions.
Raid1 mounted Hard Drives : The two hard disks integrated in the TITAN are mounted using RAID1 Mirroring, meaning a double backup in case of any unusual disk failure !
Unerasable disk system WORM
For many reasons, companies need to archive their data on stable systems… That's why TITAN® includes a WORM® (Write Once Read Many) disk. Documents are saved according to standard NF Z42-013
DiskControl®
The TITAN® has the DiskControl® software installed. This enables you to anticipate and minimise the risk of failure of one of the TITAN's hard disks.
---
How the TITAN® works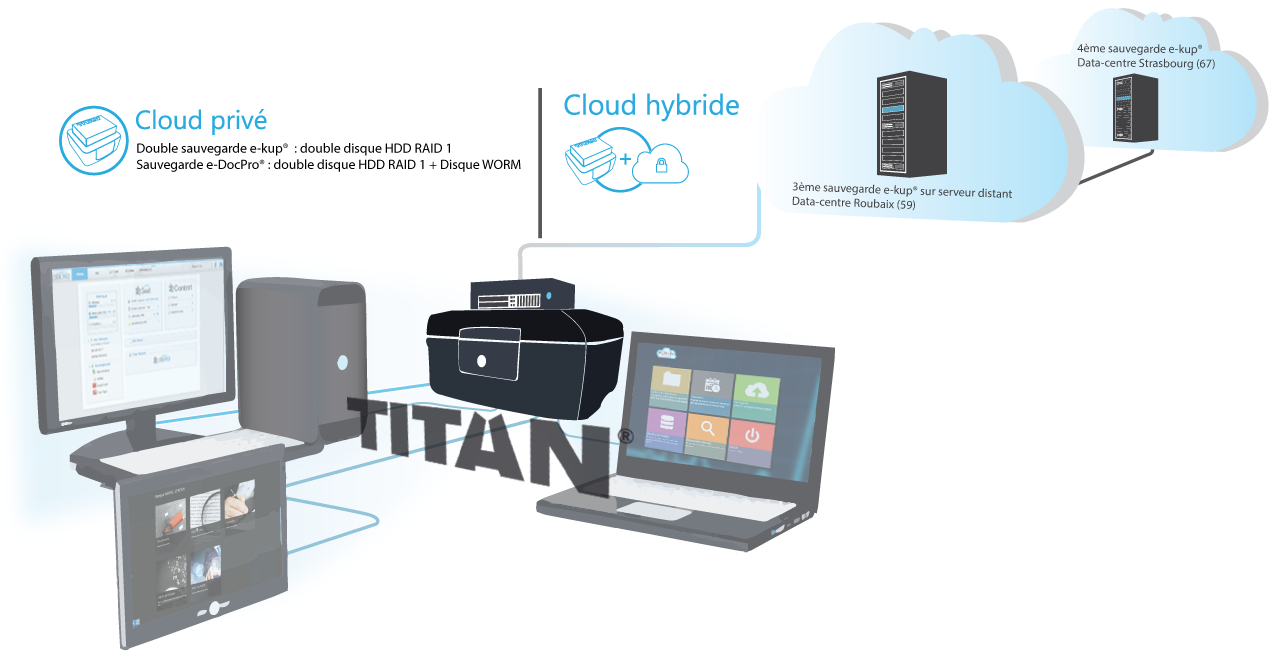 The TITAN® is connected using one of two modes : private cloud, meaning saves are made without using an internet connexion, 100% localhost. OR hybrid cloud : your data is duplicated into the cloud !
---